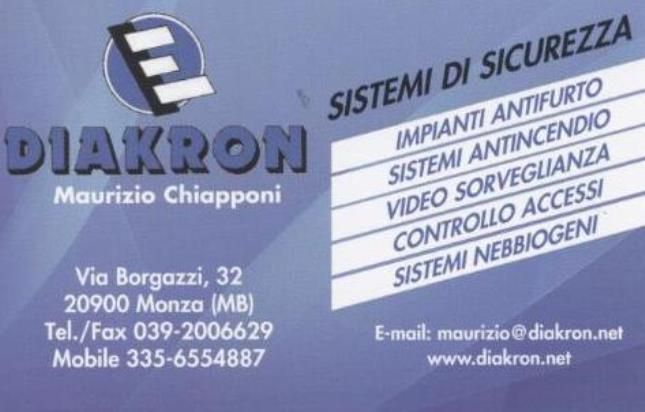 Diakron security systems Monza Italy
Tel. 039 2006629

Diakron sell and install security systems.
Diakron have a maintenance service 24 hours a day.
Diakron have alarm and supervision systems.
Diakron work since more than 30 years only in the security field and their customers are shops, companies and private houses.
Diakron cooperate with supervision institutes for connecting alarms.
Diakron are available for free quotations.
Diakron have the following brands: Tecnoalarm, Notifiers, Ademco, Domotec and Aritech.


Burglar Alarm and Security Systems at Monza. www.diakron.net Alarm home. Panic, Cameras, Fire. Monza and Brianza
description
Diakron is 'an installer of burglar alarms and security systems.
An installer takes care of the sales, installation and maintenance with a technical support service 24 hours on 24.
Diakron deals with anti-theft systems, theft, fire, video surveillance, access control and alarm technology.

Diakron has over 30 years exclusively in the field of security, serving the territory of Monza and Brianza including the hinterland of Milan.
Diakron works with the following brands: Tecnoalarm, Notifier, Ademco, Domotec, Aritech
Diakron is 'an installer registered AIPS Association www.aips.it professional installers and caters to a wide clientele: Corporate, residential, shops, banks collaborating with institutes of private security for the connection of alarm.
Diakron and 'always available for a supralluogo by the customer to provide a free estimate.